Introduction
The following information may assist you in your search for international shipping to Canada.
Shipping to Canada is expensive because the country is far away from where you're moving from unless you're coming from the United States. You could still wish to bring some items, such as your favourite musical instrument, bicycle, or skis.
On long-haul flights, most airlines provide one free checked bag. However, you may want to consider shipping bulkier or extra clothing to Canada instead.
The Relocator is a great tool for estimating overseas shipping costs. You may get free prices from more than 500 shipping firms worldwide using the Relocator. Using this service will save you a lot of money on international shipping!
What is International Shipping?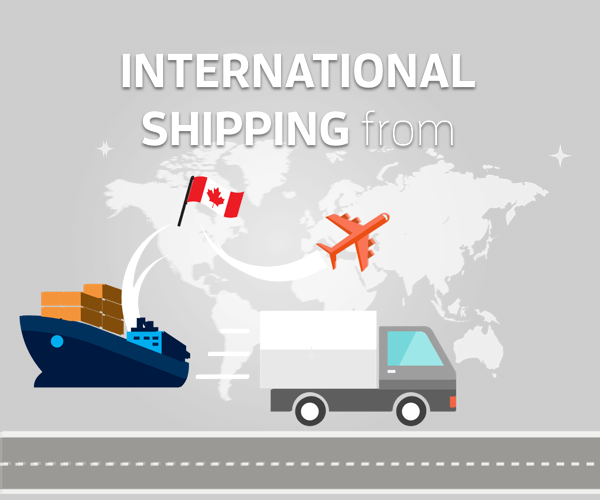 Whether by sea, air, or land, international shipping transports commodities from one country to another. Some numerous rules and regulations must be followed when transporting goods over international borders via international shipping. To effectively import or export freight, you must be aware of and adhere to certain international shipping policies and collect the necessary paperwork.
Because each country has its own rules and restrictions, shipping internationally is more complicated than shipping domestically. Certain products are prohibited from being imported into some countries, while others have more lax laws. According to Canada's list of forbidden commodities, the country charges taxes on certain products. There are two options: learn the rules yourself or hire a freight forwarding company.
These factors complicate international shipping: time zones, linguistic hurdles, and currency exchanges. Because of this, it can benefit you and your customers if you take the time to learn and understand how to export goods overseas.
How Long Does International Shipping Take?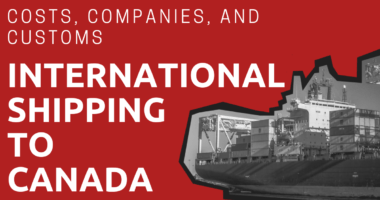 International shipments might take anywhere from two to four weeks, depending on the size of your package or freight and the shipping method. Regarding a freight shipment, the most important consideration is the cost against the time factor. Air cargo is renowned for its speedy worldwide delivery but is also quite expensive. Moving freight by water on cargo barges can take longer and cost more, but it can save you money.
There are five main parts to the international shipping process:
Transportation of goods from one warehouse, port, or facility to another so that they may be shipped to a foreign country. Upon arrival at the border of the exporting country, the freight passes through the customs clearance process.
The transportation procedure begins as soon as your cargo has successfully departed the nation of origin. Transportation mode, freight company, and customer desire for expedited or ordinary shipping all influence how long this process takes.
Export Customs Clearance: The freight must go through another step of clearance before it reaches the border of the importing country. Because you must guarantee that your freight complies with the customs laws of the country you are entering, this clearance is an essential element of the shipping procedure.
Import Haulage: Your cargo is transported from the border to its final destination after it has crossed the importer country's border. Last-mile delivery is another term for this operation.
Shipping to Canada – Customs: Customs at the country of final destination, including Canada, must clear international shipments for entrance. You'll have to list your shipping items on your customs form. You must declare the worth of the products you're exporting to Canada so that the Canadian government can figure out how much tax and duty to charge you. A tax and duty will be applied to the value of your items, which is likely to be greater than CAD 20. Everything under CAD 20 will not be taxed. Canada has an automatic 5% Goods and Services Tax (GST) on all imports valued at more than CAD 20.
In addition, some provinces, such as British Columbia and Quebec, as well as Saskatchewan and Manitoba, may also levy a Provincial Sales Tax (PST). This varies depending on where the package is going to be delivered.
Other advice on international shipping to Canada
If you're looking for something different, there are alternative options. For Victoria Janssens, international shipping has taken her from Vancouver to Europe. She explains in a note:
I know that no shipping firm will ship to the west coast. It's possible to ship boxes via air, but it's much more expensive than sending them by ground. A London-based company, Excess Baggage Company, provided the cheapest price.
It cost roughly £350 to ship three 13-foot-tall crates from Dublin to Vancouver door-to-door, which arrived three months later. It's important to seek a quote for international shipping to Canada and to be prepared for a three-month delivery time when you call for rates. You do not need to get a shipping price from any of the firms.
If you don't carry a lot of luggage, you can save money by purchasing additional checked baggage from most airlines." Because we needed to deliver some big volumes, this would have been more cost-effective than shipping cartons. '
International shipping to Canada is an option whether you're exporting your complete household or just a few specialised items like sporting equipment or a painting. As an option, you can purchase more checked baggage, but you may want to examine shipping options for larger and heavier products, as well as what to expect at customs.
Getting Your Belongings Shipped to Canada
Customs Fees
Like any other country, all international shipments to Canada must pass through customs first. As a result, you must declare the contents of your shipment and the value of the goods you're delivering to Canada (including, if appropriate, the model name and serial number).
The amount of tax and duty that should be applied to your merchandise will be determined by Canadian authorities. Tax and VAT will be levied on most purchases over $20. Imports worth more than $20 CAD are subject to a 5% GST levied in addition to all other taxes. A Provincial Sales Tax (PST) is also required if you move to British Columbia, Manitoba, Quebec, or Saskatchewan.
You should be aware that most overseas shipping firms offer you a customs declaration you must fill out before your shipment arrives, print, sign, and attach to your package.
Items You Can Import Duty – And Tax – Free
To import items duty- and tax-free when you're migrating to Canada to remain in the country for one year or more, you must have owned, possessed, and used the products abroad before arriving in Canada.
clothing and linen;
furniture;
appliances;
furnishings;
silverware;
jewellery;
antiques;
family heirlooms;
private collections of coins, stamps, and art;
personal computers;
books;
musical instruments;
personal computers;
hobby tools and other hobby items;
personal vehicles;
hobby tools and other hobby items;
pleasure boats and the trailers to carry them (trailers are subject to Transport Canada requirements);
mobile trailers, no more than 2.6 meters (9 feet) wide, that the owner is capable of moving on their own;
utility trailers;
motor homes;
private aircraft; and
tool sheds or garages that do not attach to or form part of a dwelling.
What are my options for shipping goods to Canada from abroad?
Sea Freight
Regarding moving your belongings, container shipping is the most cost-effective option. Sea freight is less expensive than air freight, but the waiting period is substantially longer. Arrival in Canada can take anywhere from 2 to 3 months, depending on where you are. Inquire whether your possessions will be delivered directly to your door or if you'll be responsible for arranging transportation from the port.
Air Freight
As a result, air freight is more expensive because it is often priced by weight and volume rather than distance travelled. Not every package will arrive at your door on schedule. You'll have to check with your shipping company to see whether this is something they offer.
Is it Expensive to Ship to Canada?
In terms of shipping to Canada, two significant fees must be included. These are the costs associated with customs clearance and foreign shipping. It costs CAD 201 to ship a 30kg item from My Baggage to Canada. Many factors affect the cost of sending your goods to Canada, including the type of service you choose, the weight and/or volume of your goods, and the shipping method you select. Free, non-binding estimates are available from up to five authorised removal companies through Sirelo.
International Shipping Companies to Canada
5 Popular International Shipping Companies
Company
More Details
1. My Baggage
My Baggage ships luggage, boxes and sports equipment around the world, and delivers it to your door.
2. Seven Seas Worldwide
Seven Seas Worldwide can send excess baggage or personal belongings to Canada in containers via sea freights.
3. Ship Lilly
Ship Lilly can send excess baggage or personal belongings to Canada via sea freights or air freights.
4. FedEx
You can send smaller items in boxes of up to 25kg to Canada via air freight.
5. DHL
You can send smaller items in boxes of up to 25kg to Canada via air freight.
Is there anything I can't bring into Canada?
Some goods are illegal in Canada, while the government regulates others. Import permits are required for some restricted goods, such as food and plants, to be shipped. For your pet, you may also require import permission. Other things, such as baby walkers and secondhand mattresses, are barred from entering Canada.
FAQs
Does shipping to Canada require customs?
What Documentation Do I Need to Bring into Canada for Export? Except for mailing envelopes weighing less than 16 oz., all shipments to Canada must include customs documentation (although some restrictions may apply).
What is the process of international shipping?
Some numerous rules and regulations must be followed when transporting goods over international borders via international shipping. To effectively import or export freight, you must be aware of and adhere to certain international shipping policies and collect the necessary paperwork.
How long does international shipping take to Canada?
Service Delivery Time
USPS     Priority Mail Express International            2-5 business days
USPS     Priority Mail International            6-10 business days
USPS     First-Class International Service 11-20 business days
UPS        Worldwide Expedited    2-5 business days
How does shipping to Canada work?
Customs forms are required for parcels sent to Canada, as they are for all international shipments. Custom declarations are printed on the label for the USPS. This means that the label is the only piece of supporting paperwork you need to submit. For foreign deliveries, FedEx and UPS require commercial invoices.
How do I calculate shipping costs?
Package dimensions
DIM weight is computed by multiplying the package or box's length, breadth, and height by three, then dividing the result by a standard DIM divisor. Shipping companies, including USPS, FedEx, and UPS, base shipping costs on the larger of the product's actual weight or DIM weight.
Is it expensive to ship to Canada?
The size and weight of the cargo, the delivery distance and time, and the courier service used all affect the shipping cost to Canada. You should expect to pay between $30 to $170 for a five-pound package, depending on your level of service.
Check out our other articles