Introduction
When looking for a job abroad, where personal connections may be limited, LinkedIn has emerged as the most effective online tool for job seekers. You can boost your chances of finding a job in Canada by using LinkedIn to build a more extensive network of contacts.
Why is LinkedIn useful?
LinkedIn helps you organize professional contacts, develop an online profile, and utilize standard connections with other network users. The goal is to meet people who can help you achieve your career goals. You can use LinkedIn to locate a job, stay on top of developments in your field, or progress your career.
Posting relevant articles or comments on your profile or selected groups might help you engage with your current network and develop new connections.
If you're looking for specific people, you may use LinkedIn's "degrees of separation" feature to narrow your search. Instead of extending an invitation to a stranger who has no idea who you are, consider asking a mutual acquaintance to serve as an intermediary. It's a great way to meet new people.
Do not be afraid of a "reverse headhunt" if you want to be proactive in seeking new chances. For the most part, this involves determining which businesses or individuals to get in touch with directly using LinkedIn's messaging service. Because it indicates that you've taken the time to look at their profile, it's essential to write a personalized note stating why you'd like to connect.
How to expand your social circle?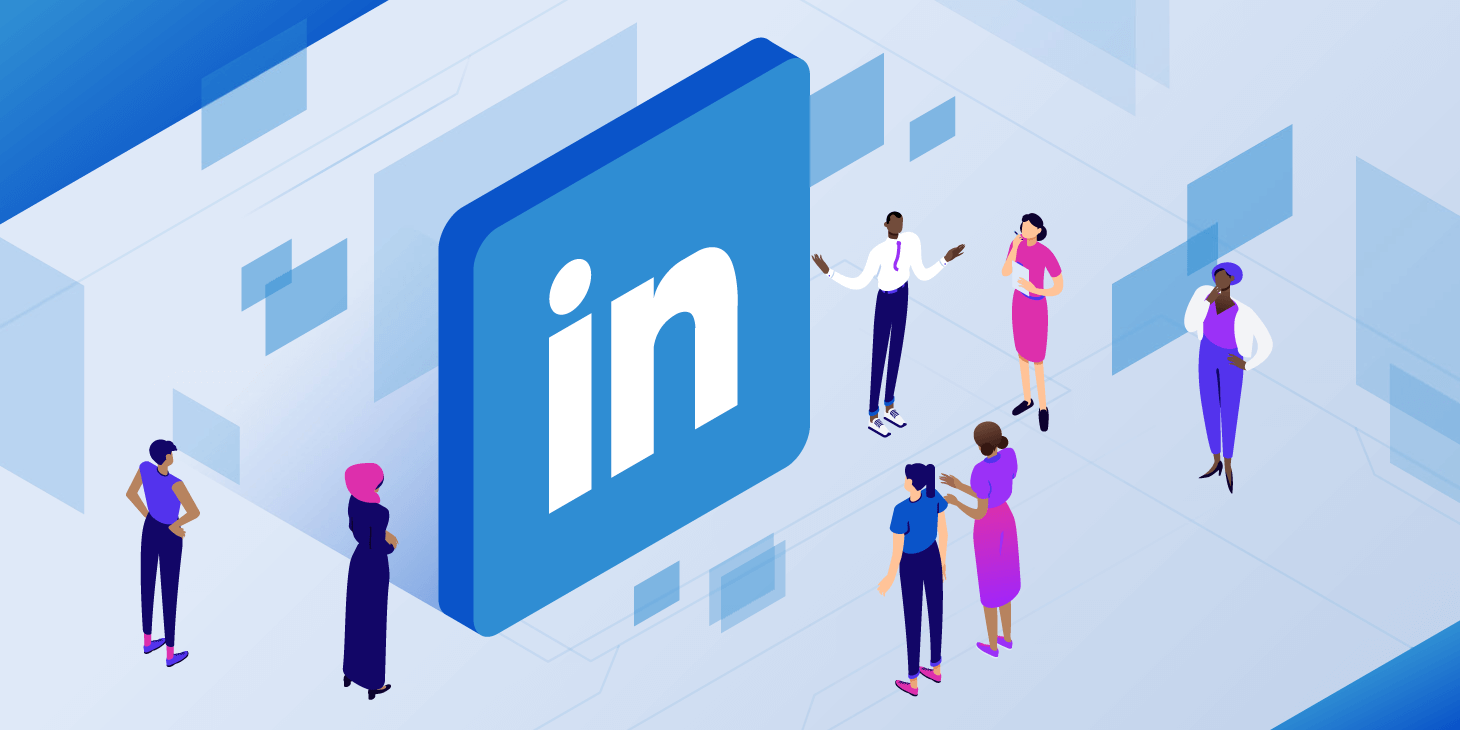 You can use LinkedIn to find other people who may be valuable to you by searching for them by name or importing your email contacts.
You may meet other professionals with similar interests and stay up to date on industry trends by joining LinkedIn groups based on your industry, professional organization, and geographic location.
Your email signature should have a LinkedIn badge attached.
Tips for success
Because LinkedIn is such an effective tool for promoting your professional interests, ensure you keep your profile up to date and present a professional picture to the world. First impressions are lasting.
It's critical to have a concise heading and title and deliver the right message to your audience.
For example, if you're looking for work, you may say on your profile that you're "seeking new chances in…"
This considerably increases your professional image by soliciting colleagues and supervisors' and satisfied customers' endorsements.
How to create a LinkedIn profile that seeks attention?
Professional photo: Having a professional image on your profile gives it personality.
Clearly stated goals: Your profile should include a brief and clear personal statement, similar to what you would write in your CV or resume.
Provide as much relevant information as possible about your current and prior positions.
Search engine optimization (SEO) of your profile is essential. The more keywords you include in your profile, the more likely recruiters will find your application. To hide your desire for a new job, it is a good idea to have phrases like seeking, 'opportunities," and 'new challenges' in your online profile. If you don't want to catch the attention of potential employers, don't make it clear that you're seeking a new job.
When you join relevant groups and participate actively in group discussions, more people will see your profile, and you'll get more traffic to your website.
Your public link to your profile may have a long URL like "tr.linkedin.com/pub/johnadams/70.887.b01/" by default. Put this link in your resume or signature, but shorten the URL first.
5 Reasons for all the students to be on LinkedIn
LinkedIn is the source of a lot of misconceptions. Regarding social media networks, it's hard to tell which one is more popular: Facebook or LinkedIn? Assumptions 1 and 2 may be accurate. However, LinkedIn caters more to the professional market, and unlike most job sites, it offers more than just letting you search for positions to fill.
Here are the top five reasons why every student should have a LinkedIn account:
To create a solid professional network
It's not only about what you know when advancing your career; it's about who you know. Begin by connecting with your university peers and lecturers, and then extend into the industry you wish to work in. Having an extensive network increases your chances of being recommended to a new position because you never know when a connection will come in helpful.
Allow businesses to find you
Nowadays, if you apply for a job, your potential employer will most likely undertake a background check on the internet. As a result of the negative connotations attached to student social media profiles, you have a LinkedIn profile can help you present a more positive (and professional!) image of yourself. An active LinkedIn profile makes it easy for potential employers to discover your qualifications.
To be notified once a new job posting is published
For students, LinkedIn is an excellent resource for finding a new job, even if the site is much more than just a place to look for new employment. Your job search can be automated by setting up LinkedIn to notify you when a job is available in a specific field or industry.
Preparation for job interviews is essential
A LinkedIn account will allow you to research the company and the employer before you go into your interview so that you can feel confident and ready to succeed in your job search.
To show your commitment
Having a LinkedIn account shows that you're serious about your career goals as a student. It's essential to show that you're putting in the time and effort needed to succeed in your chosen career by focusing on your resume and networking with individuals in the area.
8 advantages of establishing a LinkedIn profile for students in college
Opportunities for Employment
A LinkedIn profile provides a gateway to a wide range of work prospects worldwide. Student relationships used to be the primary means through which they found work before the invention of LinkedIn. As a result, your employment options have significantly expanded. Students who have completed their education in another country have the opportunity to specialize in their field and land a career in that field. In addition, if you're interested in working for a particular company, you can apply. Employers frequently post job openings on their LinkedIn profiles, so you can be among the first to learn about them.
Job Applications That Aren't That Difficult
LinkedIn has supplanted the old-school approach to recruiting as the go-to resource. The days of carrying around many copies of your résumé are long gone. In addition to recruiters looking through your profile, you will be able to keep your talents up to date with the ease with which you may upload them to your LinkedIn page. The stress of applying for a job is decreased because the recruiter already knows about your skills and wants to learn more about them. As a result, you have an excellent opportunity to take advantage of the app to its fullest potential.
In-Depth Evaluations
The app's Skill Assessment page, which was just created, asks you to demonstrate that you have sufficient knowledge of the talents you've entered. You can only add a skill to your profile after completing a predetermined number of activities. Employers will not be able to criticize your abilities if they know that your talents are backed up.
Initiate Connections
Connecting with other professionals through your LinkedIn profile might benefit more than just landing a job. For example, you may begin by interacting with buddies from high school and college before moving on to colleagues. Connections made with alumni from your school are always beneficial to have. The fact that you have such an extended network of acquaintances demonstrates that you have a high social standing. Getting a job at your ideal company can be easier if you have a connection. To stay on top of industry trends, you must build relationships with people in your field.
Connections and Endorsement
It's a good idea to build your social network by getting recommendations and contacts. Like we said before, having high-profile relationships will enhance your professional profile. Employers have more faith in your abilities when you acquire an offer for them. Making your resume stand out from the crowd is more important than ever.
Branding
You may build a personal brand on LinkedIn by creating a profile. This allows you to show potential employers who you are and what you can do. You develop a personal brand by promoting your abilities, qualities, and hobbies. Employers know what you stand for when establishing your brand, making it easier to land a job offer.
Get Job Alerts
LinkedIn will be the best place to begin your professional career as soon as you finish your foreign school. For example, you can set it up to be alerted whenever a specific role or company has a job opportunity. You'll be able to keep up with the competition if you sign up for these job notifications.
Positive Image in the Public Eye
Conducting a social network search has been increasingly popular among employers in recent months. Due to a few innocent social media posts, students often fall behind their peers in the same academic discipline. Employers can see how serious you are about your career by having a LinkedIn page, which enhances your public image.
Having a LinkedIn profile is good, but only if you know how to take advantage of it.
How to make the most out of your LinkedIn profile in preparation for your Canadian internship?
CREATE A POWERFUL Introduction
For your internship in Canada to be a success, these few words that appear below your photo must accurately portray who you are and what you hope to achieve. Because you're the best person for the job, think of it as a slogan.
This headline should highlight what you hope to accomplish in the future, your area of expertise, the positive impact on others, or a particular attribute you possess.
A poor choice for a headline would be anything like "Student at Harvard" or a quote you discovered on the internet. "The sky's the limit" is not an appropriate LinkedIn status update! Keep in mind that you're on a professional networking site.
The headline "Bachelor student at Boston University." might be appropriate. I'm looking for an internship in Digital Marketing for the year 2022″ These keywords will help you stand out from the rest of the competition.
With this strong headline, Canadian host companies should be able to see that you are capable of making an impact as an intern, even if you lack experience.
FILL OUT YOUR PROFILE PICTURE WITH A COVER PHOTO
LinkedIn allows you to have both a profile photo and a cover picture, which you should use to their full potential. It's a chance to show off what you've learned during your time in Canada, what you hope to learn during your internship, and what you've accomplished recently. Companies that provide lodging will undoubtedly take notice!
NARRATIVELY DESCRIBE YOUR WORK EXPERIENCES, IF POSSIBLE
Your previous work experience will be taken into account by the firm when they review your resume. LinkedIn doesn't have a word limit, so take advantage of it!
If you're writing about your experiences, include as much detail as possible, but don't overwhelm the reader. Focus on your obligations and results, which are the most crucial.
If you want to get the most out of your LinkedIn profile, don't just stick to text. It's possible to add a portfolio to LinkedIn that showcases your work and each of your experiences, giving your profile a more authentic feel. Adding value to your work can be accomplished in a variety of ways:

Add a link to a blog post you wrote for your student organization if you're seeking a marketing internship.
If you're applying for a graphic design internship, provide as much of your previous work as feasible.
Your website or the website of a friend or family member you've assisted should be linked for an internship in web development.
FAQs
How does LinkedIn help a student?
Students and employees can use LinkedIn to build professional networks, exchange knowledge, and display their resumes to find work.
You can go far in Canada's job market with a well-crafted and optimized LinkedIn profile. LinkedIn is more than simply a place to post your CV. Think of it as a way to tell a compelling tale about yourself while building your brand.
Why should college students be on LinkedIn?
The most excellent method to stand out from the crowd of job seekers is to have a strong LinkedIn profile. It is especially beneficial to college students because LinkedIn allows you to demonstrate your professional credentials to potential employers even if you lack work experience.
Check out other articles