Introduction
Canada has become one of the most popular countries and attracts a large number of international students. The top reason is that the country offers a high average salary. So far, Canada has a significantly lower unemployment rate, around 5.5%, and the economy is also recovering fast post covid.
The country ranks high internationally when it comes to education, quality of life, economic freedom, government transparency and civil liberties. Canada has the most talented students who have come across from the whole world. Besides the educational facilities, Canada attracts most students' attention for its high-paying jobs. If you are already studying in Canada or you are thinking of studying and work in abroad, then Canada can be an excellent destination for the same.
Statistics Canada reports show that the highest average income for Canadians is 70,000 dollars. According to the report, Canadian wages have increased by 3.3% on average across the country. In spite of that, the average income is expected to increase year by year across the country. In Canada, Entry-level positions can start at $29.494 per year, whereas the most experienced workers make up to $91,012 per year.
Provinces that pay the highest wages in Canada
If you want to make the most money possible, you'll want to head to Alberta, Saskatchewan, or Nunavut. These provinces consistently offer the highest wages in the country.
But it's not just about the money. These provinces also offer a high quality of life, with plenty of opportunities to enjoy the great outdoors. So if you're looking for a province that will pay you well and let you enjoy a great lifestyle, these are the ones to consider.
Below are the 5 top provinces that pay the higher wages in Canada:
Alberta
Alberta is the highest-paying province in Canada. The average salary in Alberta is more than $59,000 a year, which is higher than the national average. According to the Canadian Income Survey by the government, Albertans make the most money of all the ten provinces.
Alberta has led all provinces in economic growth during the past 20 years, with average annual GDP growth of 3.6% per year. Alberta's per capita GDP of $78,155 is the highest of any state or province in North America.
There are many reasons for this salary difference between various provinces in Canada. One reason for the high pay in Alberta is that there are many jobs available, and the unemployment rate is low. Another reason might be that Albertans have a high cost of living, so they need to make more money to cover their expenses.
Newfoundland and Labrador
You're in luck if you're looking for a high-paying job in Newfoundland and Labrador. The province is home to a number of significant industries that offer competitive salaries.
The fishing industry is one of the most popular and lucrative industries in the province. If you're looking for a job in this sector, you can expect to earn a good wage.
The oil and gas industry is also booming in the province. This industry is responsible for a significant portion of the province's GDP. Jobs in this sector are well-paid and in high demand.
Another great option for high-paying jobs in Newfoundland and Labrador is the forestry sector. This industry is responsible for a large part of the province's economy. Jobs in forestry are both well-paying and in high demand.
Newfoundland and Labrador is a great place to start your search if you're looking for a high-paying job. Several industries offer competitive salaries and great employment opportunities.
Ontario
The average salary of an employee in Ontario, Canada, is $57,000.
Ontario is the most populous province in Canada. It has a population of 13.6 million and is the country's economic center.
Ontario's economy relies heavily on manufacturing, which accounts for about 20% of the province's gross domestic product and employs approximately 30% of its workforce. The manufacturing sector includes food processing, machinery production and metal fabrication.
There are various jobs in Ontario that pay the highest salaries, including the surgeon, judges, lawyers, college professors etc.
British Columbia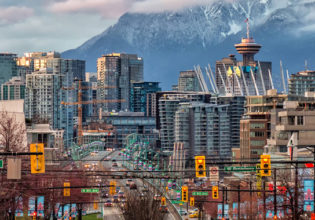 British Colombia is one of the top five provinces that pay the highest salaries. The average wage in British Colombia is $62,000. With the highest average salary, British Colombia is also one of the most expensive provinces of Canada. If you plan to live and work in Canada, you can find some of the highest-paying jobs here. Below are a few options to consider.
Engineers are in high demand in British Columbia and can command a high salary if you have the skills and experience. Despite this, doctors and lawyers are also in demand in British Colombia.
Quebec
Quebec is the second-largest province in Canada. This dynamic province offers many advantages to its citizens, including a top-notch education system, an excellent healthcare system and a clean and unspoiled environment. However, it's the only province where French is the only official language, requiring you to have a good knowledge of the language. Hence, you won't be able to get a job or admission to college if you don't understand the French language. Quebec offers a high wage to the workers, and living here is less expensive than in the other provinces.
Some provinces pay higher than others. Why?
There's no denying that Canada is a great place to live. But did you know that some provinces in Canada offer higher wages than others?
Canada is the world's second-largest country, with ten great provinces and three territories. Each province's economy, demographic condition, workforce ability, wages and employment benefits differ from the rest. Some regions have a high cost of living, and the employment rate affects income. And that is the reason that some provinces are still a little behind the rest of the country when it comes to average income. Despite that, the average income in Canada is increasing by 3.3%.
Highest paying jobs in Canadian provinces
Now when we have talked about the wages in the different provinces, let's move on to the jobs in Canada that have the most possibility of earning the highest salaries. We share some of Canada's most in-demand and high-paying jobs.
Physician/Doctor/Nursing
Canada is known for its excellent healthcare system and medical facilities. Consequently, the provinces pay their doctors, physicians, and other health workers a good salary. In Canada, the average salary of a doctor or physician is 150,000 CAD per year.
Miner/oil and gas driller
Canada is a significant producer of natural gas, oil, and petroleum products. It has vast reserves of natural gas, coal, uranium, copper and other minerals. The country's abundant natural resources make it an attractive destination for investors in the mining industry who are looking for new opportunities to invest in a stable economy with a low-risk factor. Oil and mining jobs in Canada are generally considered to be high-paying. In Canada, these jobs are an essential part of Canada's economy. These jobs in Canada provide many opportunities for Canadians.
Software developer
Due to Canada's fastest-growing technology, there is a massive demand for software developers in the Canadian job market. The software developer job here is one of the highest-paying jobs in Canada. Though the salaries of an IT employee can be different in different provinces of Canada, on average, A typical full-time annual salary for this occupation is between $75,000 – $100,000.
College professors
Being a college professor is another top-paying career in Canada. Becoming a professor requires excellent knowledge of the subjects with significant experience. Further, training the further generation needs patience and persistence. Since Ontario is a hub for many students to complete their education, college professors are here paid highly.
Courses with the highest salary
There are many courses in Canada that can lead to high-paying careers. Here are some of the most popular and in-demand courses that can help you earn a good salary:
1. Engineering: Engineering is one of the most popular courses in Canada and is in high demand. With a degree in engineering, you can work in a variety of industries and can earn an excellent salary.
2. Computer Science and IT: Computer science and IT professionals are always highly in demand all over the world, including in Canada. If you possess the right skills and degree in computer science, you can work in various industries and earn an average salary of C$92,332.
3. Business: Business courses are also in high demand in Canada. With a degree in business, you can work in a variety of industries and can earn an excellent salary.
4. Doctor and Nursing: The health care industries are one of the highest paying industries in Canada. Canada spends a large amount of its economy on the health facilities of its citizens. Hence, they pay a handsome salary to their doctors and health workers.
Employment benefits in Canada
There are multiple employee benefits in Canada that are mandatory for the employees. Employee benefits in Canada include perks like paid sick leave, vacation days, and insurance coverage like health coverage and employment insurance.
Sufficient income to live in Canada
How Much Income is Sufficient to Live in Canada?
There is no definitive answer to this question, as the amount of income required to live in Canada depends on a person's individual lifestyle and spending habits. However, a recent study by the Canadian Centre for Policy Alternatives (CCPA) found that a single person would need an annual income of at least $32,000 to live comfortably in Canada. In comparison, a family of four would require an income of at least $64,000.
Conclusion
Canada attracts most students' attention for its high-paying jobs and various facilities. If you plan to work in Canada, do proper research about the province where you want to settle down. Make decisions according to your preferences. If you put in your hard work and show the right demanded skills, you can get success in any field.
Every industry requires skilled and hard-working professionals, and Canada is one of the rapidly growing countries. Hence they want their employee to be the best so they can give their hand in the increasing economy. All you need is the right skills and hard work to earn high and settle in Canada or any of your dream countries.
FAQs
Do you need a work visa for Canada?
After finishing your degree, you must apply for Post-Graduation Work Permit Program(PGWPP).
You have 90 days to apply for a work permit after receiving the confirmation that you have finished your program. If you fulfill the eligibility criteria set for the work permit, you can start working in Canada.
Which universities are best in Canada?
According to the data provided by the Global University Employability Ranking 2020, some of the best higher universities in Canada are:-
University of Toronto
McGill University
University of British Columbia
University of Montreal
McMaster University
Which sector offers more employment in Canada?
Some of Canada's most popular job sectors are Healthcare, Education, and IT, which pay the highest salaries and offer excellent employee benefits.
Why shifting to Canada is a better option?
Excellent healthcare facilities, excellent education and a strong economy provide numerous student opportunities. These are some of the top reasons why Canada is becoming an attraction for students from all over the world.
What are the expenditures on a monthly basis in Canada?
For one person, the average monthly cost of living in Canada is 1,245 dollars, excluding the rent. It is $880 per month for a single student, excluding rent.
Check out other articles