Introduction
There are a lot of fees to deal with when you're an international student. While this is true in Canada, there are other ways to handle your money more effectively. You can always get a job near or far from your school and utilise the money you make to pay for your living expenses in Canada.
An on-campus job is one that takes place on or near the campus of your college or institution, as the name suggests. You don't have to spend a lot of time commuting to and from these positions, so you can spend more time studying and less time working.
Check the video to know more
Who can work on-campus?
Only until you've begun your academic studies in Canada can you begin working. There is no way you can get a job before you start your classes.
If your study permit includes a condition allowing you to work on or off campus, you can do so as an international student in Canada.
If you meet the following conditions, you can work on campus without a work permit:
an institution in Quebec that offers 900-hour or longer programmes leading to a diploma in vocational studies (DVS) or an attestation of vocabulaary training that is public or private, or a CEGEP in Quebec that follows the same rules as public schools in Quebec. are enrolled full-time in a postsecondary institution in Quebec, such as a college, university, trade school, or CEGEP. It's possible that this does not cover all of what the private institution has to offer.
have a valid student visa and a Social Security Number (SIN).
Students in their last semester who are taking a part-time course load
It is possible to work an unlimited number of hours on campus even if you have been a full-time student for your entire programme but are now studying part-time to complete your requirements.
Who can't work on-campus?
Your work on campus must come to an end.
Your permission expires when you discontinue full-time study, unless you are in your final semester and meet additional requirements, or if you are on an authorised leave from your studies and aren't currently studying.
Once you're back in school and complete all of the on-campus employment criteria, you can return to work.
Who can work off campus
Before you begin working, you and your employer should confirm that you are permitted to work outside of campus without a work permit. If you begin working off-campus and do not match the criteria, you may be forced to leave Canada.
You can begin working in Canada only once your course of study has begun. You can't begin working until you've completed your education.
The conditions of your study permit will specify whether or not you are allowed to work while enrolled in classes.
You don't require a work permit if you're eligible for off-campus employment.
Who can't work off-campus?
If any of the following scenarios apply to you, you need a work permit to work outside from campus:
while enrolled in an English or French as a second language (ESL/FSL) programme, your study permit states that you are not permitted to work off-campus while in school. You are only enrolled in general interest courses; you are only taking courses required to be accepted into a full-time programme.
In the event that one or more of the following scenarios occur, you will need to apply for a work visa in order to be able to work while studying in Canada.
Where you can work?
When you say you can work wherever on campus, you imply you have access to all of your school's buildings. You'll usually only be able to work at the campus where you're studying if your institution has more than one location.
If you like, you may work from a variety of locations.
As a teaching or research assistant, your work is solely based on a grant that you're working on.
There are a number of places you can work that are affiliated with your school, including libraries, hospitals, and research facilities that aren't located on campus. An annual medical exam is required unless you've already had one while working in a health care facility or other place where public health is a concern.
Who you can work for?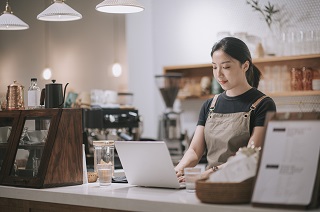 An "on-campus" employer can be:
the school
a faculty member
a student organization
yourself, if:
you run a business that is physically located on-campus (for example: you own a coffee shop that is located on campus)
a private business
a private contractor that provides on-campus services to the school
Get a Social Insurance Number to work in Canada
SIN is a nine-digit number given to you by the Government of Canada. You'll be able to work and receive government benefits and services in Canada if you have this number.
In order to work on campus and obtain a SIN, your student permission must include one of the following conditions:
If you meet the eligibility requirements outlined in R186(f), (v), or (vi), you may accept employment on or off campus (w). If you no longer meet these requirements, you must stop working.
No off-campus job is permitted under this permitholder .'s In order to work on campus, a student must complete the R186 eligibility requirements (f). If you no longer meet these requirements, you must stop working.
Both of these requirements can be added to your study permit if you are eligible to work on campus and we have not already done so. The addition of these conditions to your permit is free of charge.
Your study permit must be amended before you can apply for a SIN from the Canadian government's Service Canada agency.
How many hours you can work on campus?
As long as you meet the eligibility standards for working on campus, you are free to work as many hours as you choose.
Benefits of Part Time Jobs in Canada
Education in Canada is a pricey endeavour, but there are ways to cut costs. A part-time employment for international students in Canada can help offset some of the costs of studying and living in the country.
Student employment in Canada provide you with financial freedom and the ability to manage your finances on your own while studying abroad in a foreign country. It will also educate you how to spend wisely and how to put away some money for the long term. As a result, you'll cultivate a growth mentality and be constantly on the lookout for new challenges and opportunities.
Students from India who work part-time in Canada will gain valuable work experience. Your resume will benefit greatly from this experience, as it demonstrates that you are a hardworking person who is eagerly pursuing your goal of studying in Canada.
Many talents can be learned while working as a student in Canada, which will benefit you in both your career and personal endeavours. Learning how to juggle job and school while maintaining a strong sense of self-confidence and working as part of a team is one of the most important skills you'll acquire.
How Much Do Part Time Jobs in Canada Pay?
Working part-time in Canada will likely net you an hourly wage of 22 CAD on average as a student. Students in Canada can expect to earn a minimum of $10 per hour in a part-time employment. For students in Canada, night shifts are more likely to pay a higher part-time work compensation than day shifts.
Minimum Wages by Province
| | |
| --- | --- |
| Province | Average Minimum Wage per Hour |
| Alberta | 15 CAD |
| British Columbia | 15.20 CAD |
| Manitoba | 11.95 CAD |
| New Brunswick | 11.75 CAD |
| Newfoundland and Labrador | 12.75 CAD |
| Northwest Territories | 15.20 CAD |
| Nova Scotia | 12.95 CAD |
| Nunavut | 16 CAD |
| Ontario | 14.35 CAD |
| Prince Edward Island | 13 CAD |
| Quebec | 13.50 CAD |
| Saskatchewan | 11.81 CAD |
| Yukon | 15.20 CAD |
Paying Taxes as An International Student in Canada
It's possible that income from teaching, research assistantships, jobs, investments, and businesses obtained by international students will be subject to Canadian taxation. For tax purposes, all money generated outside of Canada must be disclosed. If your taxable income is 49,020 CAD or more, you must pay income tax. Taxes are levied at a 15% rate on the first 49,020 CAD in taxable income.
Your tax return must be accompanied by the following documentation:
Individual Tax Number (ITIN) or Social Insurance Number (SIN) (ITN).
Employment and scholarship income tax forms, such as T4 or T4A.
T2202, which is the receipt for the current tax year's tuition payments.
Your landlord's payment of rent.
Receipts from the pharmacy proving the amount of money you spent on prescription drugs.
Donations given to a Canadian charity must be accompanied by a receipt.
Documentation of expenses that may be eligible for deductions.
To know more about Taxes in Canada, check our article: Taxes for International Students in Canada
Rules and Regulations for a Student to Work in Canada
As long as you meet the above mentioned standards, you are free to work as many hours on or off campus as you wish. Among the other rules you must follow:
During school terms/semesters, you can work off-campus for 20 hours per week.
You can work full-time during semester breaks. In addition, you have the option of working more than your typical number of hours by taking on two part-time jobs or working overtime.
Before and after the semester break, you must be a full-time student in order to work full-time.
Pre-first-semester breaks are strictly enforced in terms of work prohibitions.
As a reminder, the term "full-time" is not defined by the amount of hours you work each week. As a result, make sure you and your employer are on the same page when it comes to overtime pay and rest periods. 
REMEMBER:
You cannot work off-campus without a work permit if you fall into one of the following categories:
Off-campus employment is prohibited on your study permit.
Enrolled in an ESL or FSL programme to learn English or French.
Learning about a topic you're interested in
To be admitted into a full-time programme, you must be enrolled in a pre-requisite programme.
How to Find Part time Jobs in Canada for International Students?
Prepare a complete CV that includes your university transcripts, abilities and experiences, achievements, etc. before searching for foreign student jobs in Canada. There are a variety of options for finding part-time work in Canada, including the following:
Online job portals assist you find the ideal employment for you based on your location preferences and the type of work you're looking for.
For on-campus employment opportunities, bulletin boards are your best bet.
With the support of universities in Canada, students can locate part-time jobs and get all the information they need from their career services staff.
Talking to people you know and keeping an eye out for employment on campus can help you land a career that's right for you.
Local newspapers are a good resource for learning about off-campus employment opportunities, in the same way that campus bulletin boards are. A local newspaper can help you keep track of job postings in your area.
FAQs
What is a Social Insurance Number (SIN)?
Having a Social Insurance Number (SIN) from the Canadian government is a requirement for working in Canada. If you're eligible, you'll be able to work 20 hours a week off-campus during the school year, as well as full-time during breaks.
How many hours can an international student work per week?
On-campus employment for international students is unrestricted by Canada's Immigration, Refugees, and Citizenship Act (IRCC). During the school year, you can work up to 40 hours per week off-campus, but during the summer and winter breaks, you can work as much as you want.
Are part time jobs in Canada for international students easily available?
Yes, international students can readily find part-time work in Canada. It's easy to find part-time job both on and off campus.
May an F-1 student work at more than one on-campus job?
Yes. A student on an F-1 visa cannot work more than 20 hours a week during the academic year. A student on an F-1 visa is permitted to work full-time while school is not in session, or during the student's yearly summer vacation period.
Check out our other articles