Introduction to Part-Time Jobs in Canada
While working and studying abroad might enhance your entire experience, the Canadian government is recognised to be one of the friendliest to students with study permits when it comes to employment laws. Students from outside Canada who are enrolled in a DLI are eligible to work in Canada under specific restrictions.
It might be difficult to get your first job, especially if you have no previous experience. Even in entry-level positions, businesses frequently favour hiring locals over international candidates.
An Overview to part-time jobs
International students in Canada are allowed to work part-time employment while still enrolled in school. The vast majority of their college and living expenditures will be covered by this.
They will have a leg up on their competition if they gain work experience in Canada.
If you're in Canada on a study visa, you can work up to 20 hours per week. Working fewer hours per week is an option if you're pursuing a degree that's more time consuming and demands more effort on your part. You'll be able to concentrate more on your schoolwork as a result.
Students are paid for the number of hours they work in part-time occupations.
The typical hourly wage is roughly $10.
Students have the option of working outside of school.
Because they need a work permit to do so, nonetheless
Students may be eligible for additional perks from some employers. This includes:

Medical and health coverage
Dental coverage
Employee discounts
Reimbursement of tuition fee
Stocks at a discounted price
Flexible work schedules

In addition, some of these organisations and employers may decide to keep skilled and efficient students on their payroll after they graduate from their programmes
Remember that working while studying might be difficult, especially if you're preparing for an exam or conducting research for a course assignment.
What kinds of work opportunities do I have?
Most part-time employment available to international students are entry-level roles if you're only working part-time. Some examples of these positions include retail and merchandising, front desk, waiter, and barista positions, which are typically found on or near university campuses.
It is your obligation to let your supervisors know about any restrictions on the number of hours you are willing to work each week. Requesting shifts that don't coincide with your class or work schedule will give you more time to rest and recuperate.
In the university's job portal, keep an eye out for part-time jobs in other departments, such as lab assistants or data entry roles. These positions are open to international students in Canada, and the work is virtually always tied to faculty research, which helps you build your portfolio for future opportunities in your profession.
Are there any restrictions on the number of hours that I can work as an international student in Canada?
During the academic year, full-time students are restricted to working no more than 20 hours a week off-campus. For those who do not adhere strictly to the terms of their visa, they run the risk of losing their ability to obtain a green card or, in the worst case, being deported if they are caught.
As a student in a DLI, your primary responsibility is to successfully finish your courses and graduate on time. There is no limit to the number of hours you can work each week while you are on campus. Putting in long hours at work might take time away from your academics and add stress to your time spent away from home.
Only during designated academic vacations, such as the summer or winter holidays, can you work full-time off campus.
I'm an international student in Canada, may I start a business?
While studying in Canada, entrepreneurial international students may ask if they can establish their own business. To achieve this, you'll need to apply for a modified study visa through Citizenship and Immigration Canada (CIC) in order to gain permission to work outside of school. In spite of the fact that you may be running your own business, you still have to adhere to the working hours restrictions on your study permit.
Part-Time Jobs In Canada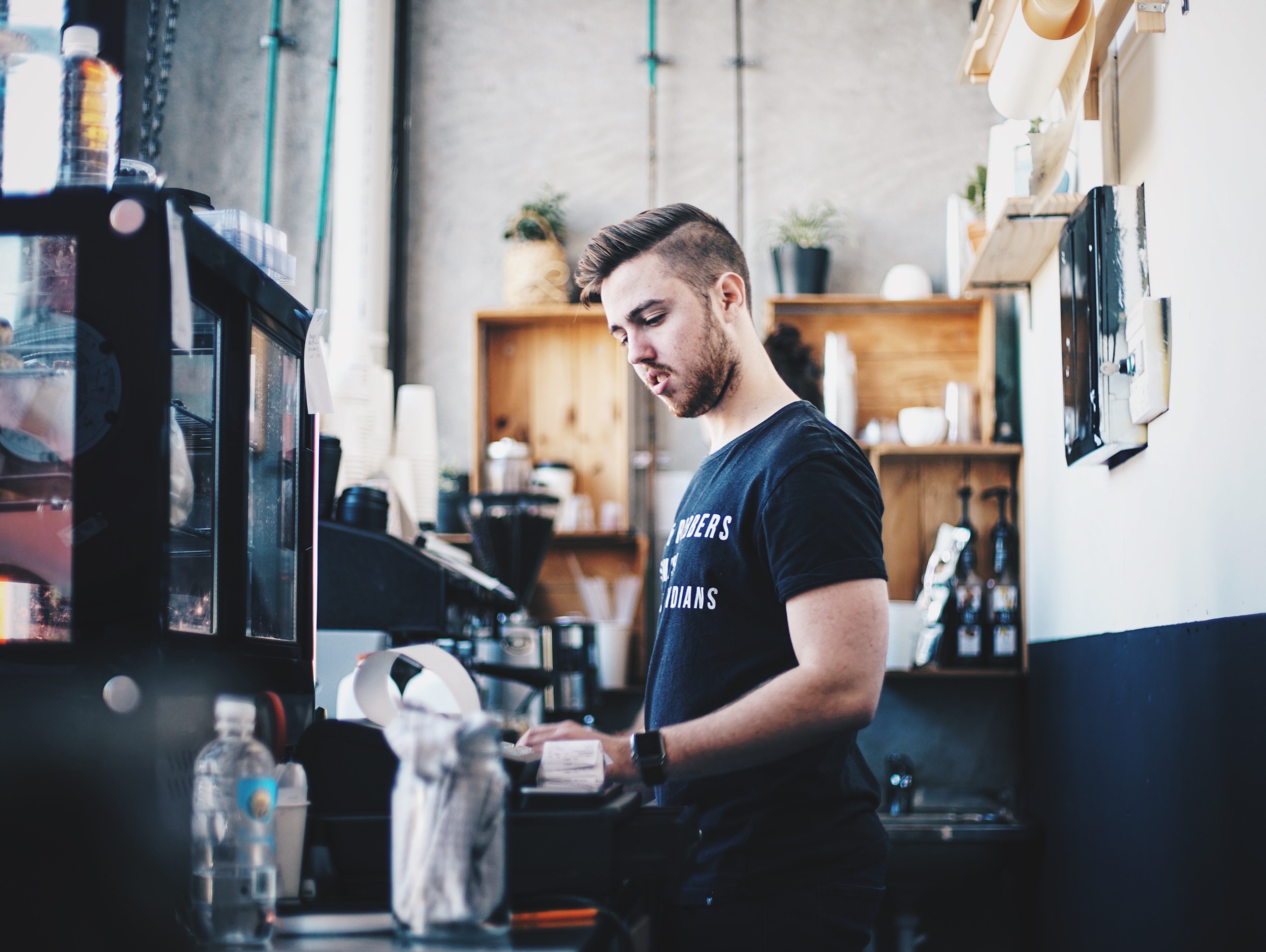 Working in a Cafeteria/ Barista
One of the most popular and long-standing options for overseas students seeking part-time work is tutoring. No matter where this work is held, it does not necessitate extensive training or experience.
Baristas enjoy a more enjoyable work atmosphere and earn more money than their counterparts in most restaurants.
Free coffee and lunches are available during your work hours, as well as a variety of other perks. Cafeteria workers in Canada can expect to earn anywhere from $11.00 to $25.00 an hour.
Freelance Content Editor
Working as a freelance content editor might be an excellent career choice if you are fluent in English and have strong skills in reading and writing. Your job is to ensure that the information in a publication is free of spelling and grammatical problems and that it is properly formatted for print and online use.
The amount of money you are paid depends on the project you're working on right now.
Editors can expect to make between $40 and $60 per hour on average, depending on their skill level.
Bartender
Students love working as bartenders and servers because of the flexible hours and decent pay (including tips). A bartender's hourly wage may not be very high. However, if a consumer is pleased, they may leave generous tips.
There is a lot of weekend and nighttime work, as well. The amount you make is determined on the bar or restaurant where you work, the day of the week, and the number of hours you put in.
In Canada, bartenders and servers can expect to make anything from $75 to $200 per night in tips.
The average hourly wage for a bartender is $11.00, not including tips.
Translator
Working as a translation might bring in a decent income. You have the option of working for an organisation or as a freelancer in this position.
You must be fluent in that language in order to apply (Reading, writing, and speaking).
As a translator, your hourly rate may vary depending on how well you can handle the language and how much demand there is for it.
A translator's hourly wage in Canada typically ranges from $15 to $55. It's possible to make $22 an hour on the average.
Uber Driver
International students in Canada frequently take on this type of part-time work as one of their primary sources of income. For this position, you must be at least 21 years old and have a current driver's licence. In addition, a smartphone and a car are essential.
Earnings depend on the number of hours you drive and the times you select. If you drive on weekends, evenings, or early mornings, you can make a lot of money.
Uber drivers in Canada can expect to make anything from $14 to $26 an hour on average.
Paid internships and co-ops
As an international student in Canada, securing an internship or co-op placement is a true test of your ability to put theory into practise. Only if you need the work experience to complete your degree can you work as a student intern in Canada.
Getting an internship or a co-op can help you land a job after graduation since they increase your professional network and teach you soft skills that are in high demand in today's employment market.
To begin with, make use of your student and faculty networks to find out about open opportunities so that you may begin putting together your application materials in advance. The best way to find the proper opportunity for you is to look for it on LinkedIn, job sites, or at your university's Career Services office.
Working in Canada after graduation
Foreign students flock to Canada because of the PGWP, an employment permit that lets you work for a period of time equal to or less than the number of years you were in school, but not more than three. Because the PGWP is a one-time deal, once it expires, you can't re-enter it.
If you're hoping to become a permanent resident of Canada, a full-time position with the PGWP is often the first step toward that goal, so getting a head start by submitting your resumes as early as possible is the ideal option.
Conclusion
Students studying abroad, whether in the United States, Canada, or another country, will always appreciate the opportunity to work part-time while they are there. Depending on your class schedule, you can choose a career with a flexible work schedule.
Earning more money can go a long way toward covering your living expenditures, such as rent, groceries, and tuition.
FAQs
Can international students work remotely in Canada?
If a student has a study permission that allows them to work off-campus, they can be self-employed. 1/2 Working from home for a corporation based outside of Canada is not considered employment. There is no time limit of 20 hours.
Does Canada give jobs to international students?
If your study visa includes a condition allowing you to work on or off campus, you may be able to do so while in Canada. In addition, you must fulfil all of the other conditions. Only until you've begun your academic studies in Canada can you begin working. Unless you've already started school, you can't work.
Is it easy to get a part-time job in Canada as an international student?
It's a good idea to work while you're in Canada if you want to eventually seek for permanent residency (PR). Student visa holders in Canada have the option of working 20 hours per week in a paid position.
Check out other articles