Introduction about Public (government) Colleges
Canada offers some of the best public colleges in the world, which provide excellent education to both domestic and international students. Some of these colleges provide degrees, diplomas, certificates, and apprenticeship programmes in collaboration with universities.
In Canada, there are around 183 recognised public colleges and institutions. This comprises colleges that offer associate's and bachelor's degrees.
Introduction about Private Colleges
A provincial government has granted a number of private universities in Canada the right to bestow academic degrees. Despite the establishment of private institutions in certain Canadian provinces, the majority of universities in the country are still publicly supported.
Although some secular for-profit and non-profit private colleges were formed in Canada during the late twentieth and early twenty-first centuries, the oldest private universities in Canada were seminaries or religiously associated institutions. In addition to private Canadian institutions, the provinces of Alberta, British Columbia, and Ontario also include multiple satellite campuses for private American universities.
Major differences in Public and Private colleges of Canada
This section has the list of some major differences which could be observed between private and public colleges:
Class size
The much smaller class sizes are unquestionably one of the biggest reasons to pick a private college in Toronto over a public university.
Public institutions can contain tens of thousands of students — the University of Toronto's Downtown campus has over 60,000 – making it easy for individual students to become lost in the crowd.
Professors can only give each student so much time and mental capacity, and when you're in a class with 400 other students, it can feel like you're not getting the greatest education possible.
Private colleges have far fewer student populations, resulting in smaller class sizes. This means more face-to-face time with your lecturers, more time for questions and in-depth responses, and a sense of being heard.
Professors may spend more time teaching concepts, providing feedback, and ensuring each student feels like they are actually gaining the knowledge they desire in smaller classrooms because they are not overwhelmed by the sheer volume of students they must educate.
A sense of community
Private colleges in Toronto offer a stronger sense of community in addition to smaller class sizes.
Surrounded by tens of thousands of students, it can feel lonely and tougher to form bonds than if there were only a few hundred. Because of the smaller size of their student bodies, private universities foster a stronger feeling of community. This can lead to valuable study groups, networking opportunities, and perhaps lifetime friendships.
In comparison to the busy or intimidating structure at public institutions, smaller communities can imply better access to interest groups and clubs, providing for a more enjoyable extracurricular experience at a private college in Toronto.
Scholarships & Grants
Due to a variety of available scholarships and grant programmes, private colleges can wind up costing the same as public universities.
Despite being "public," public institutions can be quite expensive — some surveys have found that the average cost per year for a student can reach $20,000!
Despite the fact that private colleges are deemed "private," their tuition prices are typically equivalent to those of public universities, and they frequently offer a variety of merit scholarships, grants, bursaries, and other financial aid.
When combined, these can significantly reduce the cost of attending a private college in Toronto and alleviate some of the financial burden that comes with being a student. Cester College provides free tuition to both domestic and international students who have excelled academically.
Student Support
Private colleges offer substantially more in-depth student support than public institutions due to their smaller student groups.
Many public colleges have basic student support programmes to help with study burdens and personal health, but few can provide direct face-to-face interaction and the time necessary to effectively assist students.
Individual colleges, on the other hand, are more likely to provide a wide range of student support services, such as private tutoring, one-on-one meetings with professors, and organised study groups. Professors and support staff have more time and capacity to provide each student with a higher degree of care and attention than is normally provided at public universities, which can help with a variety of demands in student life.
Shorter Completion Time
A private college's advantage over a public institution is the generally shorter average completion time.
Students at public universities typically require six years to complete their degree. Deferred years, failed classes, and prolonged programmes are some of the most common reasons for this. The longer you wait to finish a programme, the more you spend for it and the longer you are unable to enter the workforce and start your career.
The average time to graduate from a private institution is four and a half years. Because class numbers are smaller and students have more support, fewer students fail classes or need to delay, allowing them to graduate up to one and a half years earlier than students at public universities. Obviously, you will save money because you will not be paying for an additional one and a half years of tuition.
Advantages of studying at Private Colleges
Academic Achievement: The emphasis at a private institution is on learning rather than the curriculum itself.
A tight-knit community: Most private institutions place a strong emphasis on student life.
Students who are actively involved.
Professors of distinction.
Scholarships for merit.
The number of students in each class.
Population homogeneous.
Schedule is tight.
Advantages of studying at Public Colleges
The first and most essential benefit a Public College has over a Private College in Canada is the value of having completed your studies at one of these institutions in the labour market. This explains why, despite the fact that Private Colleges are also highly valued, the Canadian labour market prioritises international students who have graduated from Public Colleges.
As a result, these types of institutions frequently provide a better opportunity for international students from Latin American countries who are studying in Canada and seeking to experience the Canadian work environment and assess the possibility of establishing a life in this country in order to advance their professional development.
In this instance, a public college provides you with numerous benefits, including the ability to:
Have permission to work part-time while enrolled in your professional programme.
After you've finished your studies and received your diploma, apply for a Post-Graduation Work Permit. This permit allows you to work in Canada full-time for up to three years.
Furthermore, if you have a spouse, this visa allows them to work full-time as a financial support for your education.
How do I qualify for a post graduate work permit?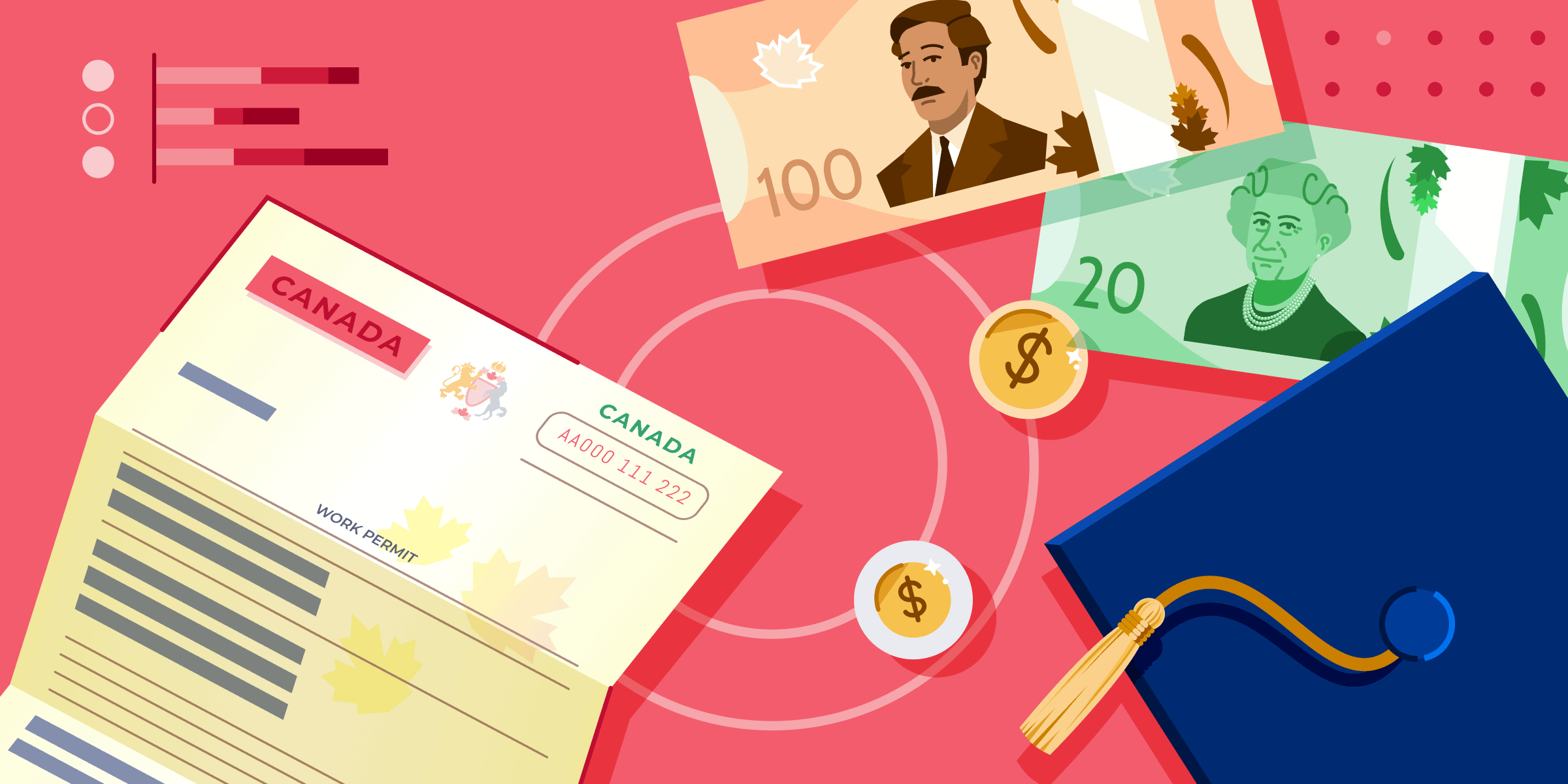 In their lifetime, applicants are only eligible for one post-graduation employment visa.
To be eligible for a post-graduation work permit, the applicant must be in possession of a valid temporary work permit or have left Canada. They must have graduated from an approved educational institution (DLI). They must also provide proof that they meet all of the following requirements:
They have finished an academic, vocational, or professional training programme of at least 8 months duration at a qualifying institution in Canada that leads to a degree, diploma, or certificate.
They have been registered as full-time students in Canada for each academic session of the programme or programmes of study they have finished and submitted as part of their post-graduation work visa application. Only the following exceptions are permitted:
Final academic session departure from studies
They have obtained a transcript and an official letter from the eligible DLI stating that they have completed their programme of study and that they have met the prerequisites.
A post-graduation work permit application must contain the transcript and official letter.
Applicants must additionally meet one of the following conditions within 180 days of applying for a post-graduation work permit:
They have a valid student visa.
They had a research permit.
They were given permission to study in Canada without having to apply for a study visa under the Immigration and Refugee Protection Regulations.
List of private colleges that offer post graduate work permit
Briercrest College and Seminary
Alder University
Alexander College
Acsenda School of Management
Columbia College
Coquitlam College
Fraser International College
Northern Lights College
Confederation College
Our Lady Seat of Wisdom College
The University of Trinity College
Coast Mountain College
Vanguard College
Grande Prairie Regional College
Cumberland College
Conclusion
This is why knowing as much information as possible will aid you in selecting the appropriate college. Setting goals and objectives for yourself in Canada can help you determine which path to take to take advantage of the opportunities that this country has to offer.
In this regard, we propose that you learn more about the differences and benefits of private and public colleges so that you may make an informed selection.
FAQs
What is better public or private college?
Students can get federal financial help from both public and private colleges, although private colleges often have more money available to offer grants and scholarships. Public universities, which tend to be larger, are better able to accommodate a higher number of students with work-study opportunities.
Is a private college worth it?
While alumni of prestigious private colleges tended to earn greater earnings than graduates of public schools, those with public school degrees were more likely to hold a full-time employment four years after getting their bachelor's degree, according to a 2016 Columbia University study.
Why is private college so expensive?
College is costly for a variety of reasons, including increased demand, more financial aid, a lack of state financing, the need for additional faculty members and the funds to compensate them, and increasing student services. According to one expert, the cost of college has rendered a degree less valuable than it was ten years ago.
Check out our other articles