Student Visa Rejection in Canada
An increase in the population of Canada, the country has seen an oversupply of student visa rejections as a result of an increase in student visa applications. Every year, over 30% of all student visa applications to Canada are turned down by Citizenship and Immigration Canada (CIC). A bachelor's degree applicant in Canada was the most likely to be denied, while a PhD applicant in Canada was the least likely.
A study permit and a visa are required for international students who want to study in Canada. Following admission to a DLI, students are required to apply for and get a Canadian student visa/study permit (Designated Learning Institute). There are more than 3,50,000 international students in Canada on student visas, according to IRCC (Immigration, Refugees, Citizenship Canada).
Check the video to know more
Reasons for Rejection for Canadian Student Visa
International students who meet all of the requirements for a student visa in Canada are typically hopeful about the outcome. However, even if an applicant meets the academic and admission standards of a school, a study permit may be denied. IRCC frequently rejects student visas for the following reasons:
Choice of Program
Your Canadian student visa may be revoked if the visa officer doubts your choice of a programme. The likelihood of visa refusal increases if the applicant's academic or job background does not match the chosen programme.
The difficulty can be solved by submitting a detailed personal statement for the programme of choice if it does not match previous education or work experience. Attaching a lengthy educational history or work history can be helpful for applicants who have a similar career path in mind.
Non-native English speakers from outside the United States are required to demonstrate their ability to communicate in English. When applying through the SDS or SPP programs, applicants must meet the minimum standardized English language test results (TOEFL/IELTS). Even if a student has the minimal score required by the DLI ELP, he or she may be denied a student visa to Canada if the program conditions are not met.
To avoid having their study visa application rejected, applicants must meet the program's minimum score standards. For students interested in studying in Canada, learn more about the standardised language test scores and requirements.
Incomplete Travel or Identity Documents
Study permits may be denied in circumstances where a student's travel history contains too many gaps and there is insufficient documentation to support such gaps. The odds of a Canadian student visa refusal increase if the identity documents are insufficient or difficult to understand.
As a result, applicants must provide appropriate documentation and evidence to support their travel history. To avoid a visa rejection due to the aforementioned issue, the identification documents presented must be legible and clearly accessible.
Lack of Job Prospects in Home Country
If there are no jobs available in one's home country, this indicates a desire to return there. A dearth of employment opportunities in the applicant's native country may lead to the conclusion that the applicant intends to relocate to Canada. This could lead to the denial of a Canadian student visa application.
After completing their education in Canada, applicants can present evidence that they will be able to find work back home.
Biometric Rejections
The Canadian Ambassy has the ability to reject an application if a student fails to provide any required biometric information or if the biometrics are not properly scanned. Applicants are urged to provide the correct and timely biometrics in order to expedite the VISA application process.
Intent of Return to Home Country
Because the student visa is a short-term visa, it has an expiration date. The candidates must provide sufficient evidence that they intend to return to their home country. Extending one's student visa or becoming a permanent resident is not out of the question. Documents indicating the applicant's intention to return to their home country are required to demonstrate that the applicant will not remain in Canada after their study permit has expired.
Personal statements can be used to resolve this issue. An applicant's personal statement should address the issue of dual intent as well. Dual intent is accounted for by those applicants who originally intend to visit Canada on a short-term visa (e.g., a study or work visa) but later plan to settle there permanently.
No Permanent Stay
A Canadian student visa is only valid for a specific period of time and must be renewed upon its expiration. During their visa interviews, international students must demonstrate to the officer that they want to return to their native country after completing their education. Student visas may be denied if the officer believes that the student is a potential immigrant.
Letter of Acceptance
Application for a study permit requires a letter of acceptance from a Canadian DLI. The Canada student visa may be denied if the applicant's acceptance letter is in dispute.. Additionally, applicants must complete the institution's minimal entry standards in addition to receiving an acceptance letter. A student visa application may be turned down if the visa officer has any doubts that the applicant meets the basic requirements.
If this is a concern for applicants, they should double-check the legitimacy of the institution from which they receive an admission letter. Documents submitted as proof of minimal requirements must also be sufficient, as applicants must make sure. It is also possible to submit any other supporting documentation.
Financial Insufficiency
To study in Canada, you must show that you have the financial resources to cover the cost of your first year of study. However, if the immigration official suspects financial deficiency, the student visa application for Canada may be rejected.
Applicants can avoid this issue by not focusing just on the minimum amount of money required. Additional financial documentation, such as proof of funds for a period longer than a year, may be submitted with the application.
The cost of studying and living in Canada can be found out by contacting the government of Canada. If you plan ahead of time, you may be able to cover all of your bases.
What to do if Canada Student Visa gets Rejected?
Since a student's future is at stake, obtaining a Canadian student visa is critical. Because the grounds for Canada Student Visa refusal vary, you should familiarize yourself with all of them before reapplying for the visa.
If your student visa application is rejected, don't panic; instead, follow these guidelines for Canada student visa rejection reasons in order to get your visa approved:
Step 1:
Identify the Reasons for Your Student Visa Denial
It is possible that a number of issues could lead to a student visa being rejected for Canada. For every reason you're refused, there is a list of probable explanations. These are shown as a series of arrows. When a condition isn't met, there isn't a single highlighted pointer to indicate that you've failed.
To prevent making the same mistake again when you apply for another visa, you must first determine why your application was denied. You should not be discouraged if you are unable to determine what went wrong or what you should do next. A visa application may be declined for a variety of reasons.
Step 2: Solve the Issue
If you've figured out what caused the previous rejection, the following step is to identify a remedy to the problem. Consider reapplying for a visa if your initial application was denied because of a lack of funds.
Before submitting a new application, be sure all of the information you provided is correct. If you didn't make it apparent to the recruiter why you wanted to visit the country in the first place, emphasise your ties to the area this time around.
Rehearse, be honest and confident, and offer the interviewer with trustworthy information no matter how nervous or afraid you were during your prior visa interview.
It is also recommended that if you are unable to isolate the issue, you assess the timeline for submitting a visa application.
Step 3: Re-apply
You can reapply for a student visa if you were denied the first time around. First-time visa applicants often get second-time approval for a Study Permit application. Identify and fix any problems that contributed to the rejection of your application.
For visa interviews, it is possible to ask the recruiter why you were refused. Even if an interview with you was not necessary, the reasons for your rejection will be detailed in written correspondence. Next, work to eradicate the source of the problem before reapplying for your Student Visa.
How to Reduce the Chances of Getting Rejected for a Student Visa to Canada?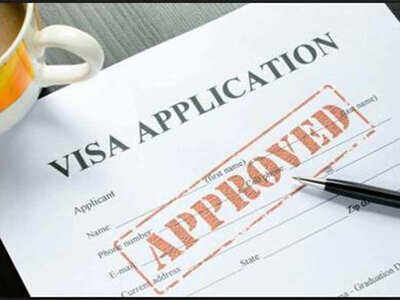 Make a list of all the documents you'll need to submit to get a student visa. The Government of Canada's official website provides a list of these organisations.
Fill out the visa application form completely and accurately. Make sure there aren't any blanks in the table.
A copy of the offer letter from a Canadian institution or university must also be uploaded by students.
If you're applying under the SPP, you'll need to provide proof of your funds, so it's a good idea to transfer CAD $10,200 to Scotia Bank. ICICI Bank offers GIC to Indian students.
Salary or bank statements are required as proof of the applicant's previous employment if applicable.
Include all prior travel history and visa denials in the application.
When applying online, be sure to answer all of the questions on the CIC website.
The visa officer's first impression of the applicant will be formed by the declaration of purpose. Make mention of your academic accomplishments and your desire to study in Canada, if possible. This declaration of intent has the power to either break or strengthen the file.
Conclusion
A study permit may be more difficult to get than a letter of acceptance from a Canadian university or college.
FAQs
What if I did a mistake on my Canada Study Permit Application?
A Request to Amend Record of Landing, Confirmation of Permanent Residence, or Valid Temporary Resident Documents form should be filled out if your immigration paperwork has an error. If you do, you'll have a better chance of getting a Canadian student visa.
Is obtaining a student visa to Canada difficult?
A Canadian student visa may appear to be an easy process at first glance, but it can be difficult at times. A student visa may be more difficult to obtain than receiving a letter of acceptance, which many students believe is the most onerous part of the pre-study abroad process.
Exactly how many times may a visa be turned down?
If your visa application was rejected, you may not reapply immediately since the conditions under which it was rejected would not alter overnight, according to immigration officials in several nations. As a result, you can usually only reapply for a visa six months after your initial application was denied.
How long may I wait before applying for a Canada visa?
Your application for a Canadian visa can be resubmitted at any time by Immigration, Refugees, and Citizenship Canada (IRCC). Make sure that your letter of decision mentions the same thing. In such case, there's no point in making the same mistake twice.
Check out other articles